Top 10 Reasons to Use Coworking Space in 2023
Businesses and employees proceed to argue about how, when, and where work has to be finished as the world strives to return to its pre-pandemic normal. During this situation, a coworking space is quietly and securely offering solutions, improving enterprises' working efficiency. 
The coworking market is predicted to develop by $13.35 billion from 2021 to 2025, following a joint comparison using the Chartered Insurance Institute (CII).
Of course, there isn't always an area that works for everyone. The solution should vary depending on the organization. A flexible work space helps organizations reduce capital expenditure, boost productivity, create a vibrant workplace culture, and safeguard employee wellness.
What is a Coworking Space?
Coworking space is a place where people come together in an open workplace to work individually or in groups on different projects. Employees in a co working space typically don't work for the same office which makes it different from the traditional workplace. As employees don't have to sign a long-term contract in a shared workspace, flexibility is the key feature in coworking space.
What are the Significant Reasons to Use a Coworking Space in 2023?
Competition for coworking memberships will certainly rise in tremendously saturated markets. A coworking space needs to find and establish its USPs because employees may demand more than just attractive pricing. 
At present, coworking spaces consist of between 12 and 15 percent of occupied space, however, that number is expected to rise to 21 percent by 2023. However, shared office space is necessary for businesses where professionals from different industries can meet, collaborate, and establish new connections.
Small businesses, freelancers, and others should use coworking spaces to work, communicate, and participate with their local business community. It was previously a concept which had a limited amount of public awareness and now exists in the physical world. Thus, a coworking space is more than just a trendy overworked phrase.
The following are the significant reasons indicating coworking space's importance in 2023.
 Increased Networking Opportunities 
The network opportunities with other professionals are a significant perk of using a coworking space. However, working from home or in an independent office may cut employees off from essential business connections. Sometimes, being nearby to other thriving businesses is all a startup needs to begin its journey. Workplace solutions now often include social elements because of the constant addition of fresh individuals into firms.
Some of the most popular concepts for collaborative office spaces revolve around bringing together people with similar career ambitions. Moreover, it also encourages employees to engage with entrepreneurs on their own time, which could create the next great idea. Shared workspaces allow access to various types of projects and even strategies that can benefit the firm.

In a coworking space, employees have the opportunity to interact with new people and build professional relationships. It prevents loneliness and builds interpersonal skills, and many coworking spaces provide self-improvement workshops to boost productivity. Everyone in a coworking space is on the same page, and it's easy to find out who's working on what and why. Thus, coworking spaces increase employees' mental well-being, which boosts their productivity at the workplace.
Coworking space gives the possibility to make collaboration with new enterprise tycoons. Coworking expands networking possibilities while growing experts and non-public growth.
It represents developing conducive surroundings for work with no restrictions put through the company. Coworking networking is an integral supply of commercial enterprise referrals stated by 64% of people. Thus, it helps employees to collaborate with professionals from numerous fields and complete their duties efficiently.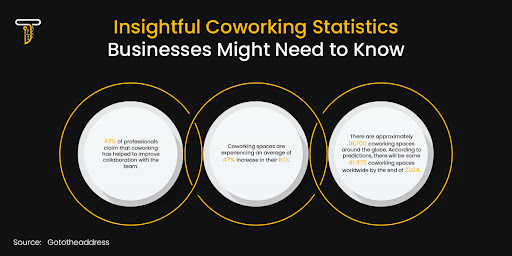 Entrepreneurs, startups, and freelancers can develop in coworking spaces. Coworking environments enable them to focus on their work rather than managing housekeeping and office activities.
It additionally will increase employees' potential to work in a brilliant and nice workspace. Moreover, coworking space presents complete surroundings that ensure that everyone can do work while playing with snacks, coffee, and tea. Furthermore, it additionally conducts commercial enterprise events that all of us can attend.
You can also read how coworking space is a cost-effective strategy for startups to enhance business growth.
Weak internet connections or any different residence duty minimize employees' productivity. Coworking has solved this difficulty by supplying speedy net service, non-public offices, meeting rooms, superior technology, and built-in areas to reduce noise.
It offers prices to specialists with the elasticity to work from any area they want. Thus, coworking workplaces supply points that assist focus work and are missing in the home, i.e., privacy, quiet, and amenities. 
Small company proprietors who are simply in the phase of beginning up the enterprise have to fear several elements like
Taxes

Maintenance and cleaning

Furnishing

Utility bills
Coworking areas minimize fees by presenting a fine infrastructure facility with superior technologies. Most people experience spending time there due to the fact of the livable and sustainable environment.
Appropriate Meeting Spaces with Equipped Offices
Coworking space eliminates the fear of running and preserving offices. It can be utilized by freelancers, entrepreneurs, commercial enterprise executives, and their teams.
They supply suitable meeting rooms that provide them with a feel of an exact workplace. These meeting rooms replicate mindset and tradition with their furnishings and layout.
Coworking areas decrease the burden of enterprise owners by offering infrastructure services. 23% of high-grade workplace areas are now shared spaces in Asian cities. Thus, outsourcing workspace upkeep reduces many duties and enhances extra productive ideas.
Coworking with Like-Minded persons
Most employees experience isolation or want extra time to pay attention while working from home. Utilizing coworking space can assist in working with innovative and like-minded people.
It helps them to reach their dreams successfully and presents them with extra expertise for entire tasks. These workspaces assist personnel to recognize the importance of changing ideas.
Choose TecHub To Keep Up with Market Trends
Coworking space ensures small organizations collaborate with new personnel with superior capabilities and knowledge. It offers a relaxed and productive space.
TecHub offers top-notch great offerings with 24/7 IT support services. They have a committed resource for maintenance, technical operations, and customized administration programs. You can send a message to get in touch.
Most employees can develop by meeting with different specialists and innovative people. Moreover, it performs a fundamental position by supplying bright surroundings and cheap fees for an expert setup. Thus, it helps organizations to unwind, focal point and join with different specialists to succeed.