Techub – Smartly Priced Shared Office Space Solutions
Everyone must have heard of the recent trend of coworking spaces. These are just arrangements of offices that can house different organizations all in one place. This office space solution is best for every small to medium enterprise, freelancer, and remote worker. Coworking spaces are low-cost solutions that are professionally set up and provide all the required amenities for a business. There were only 2600 coworking spaces worldwide in 2017. This number exploded at a great pace after the rise of startup culture. In 2022, over 49,500 coworking office space solutions will be registered globally. 
Why Coworking Spaces are Increasing in Number
The concept of coworking is well-liked by businesses all across the globe, especially by budding startups. The numbers are increasing rapidly and the reason behind the rise is affordability. When it comes to getting all facilities, resources, power backup, and convenience at a reasonably low price, coworking space is the first thought that comes to every business owner's mind. According to the numbers, coworking spaces save up to 25% of expenses due to the utilization of shared resources. Other than cost savings, coworking spaces are feature-packed with other advantages as well. 
Why Every Business Needs a Coworking Space
A convenient office is an integral part of workforce productivity, ultimately leading to business success. Other than just low costs, here are the top two reasons why every business should try a coworking spaces at least once in their market run. 
Flexibility
Flexibility is an important factor when considering current working schedules across every industry. Many offices are operating with flexible hours to provide ease to their employees. Coworking spaces are built to accommodate this routine. As commercial hubs, these office space solutions are equipped with all vital resources that offer a flexible or more agile solution than a traditional office space that requires buying and mortgaging property. It provides easy move-in and out to businesses that offer various services. 
Business Opportunities
Startups are more suited to a shared coworking space, as every industry requires a decent experience first to continue in the long run. Working in a shared office space solution allows startups to build a strong community network. Building a connection with similar businesses leads to new opportunities that can lead to long-term clients and ultimately leading a strong business development strategy.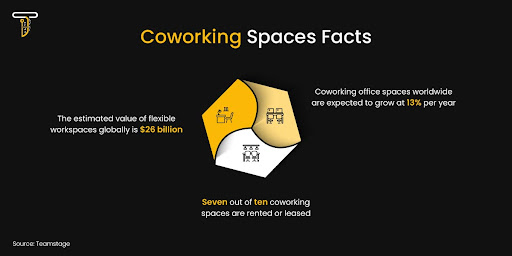 Why Techub is Best for Your Business
Enough talking about choosing a coworking space, let's get to the business end. What does a company need in order to grow and build a strong market presence? From rich facilities to modern and convenient workspace planning, Techub has got you covered. Our well-suited office space helps small companies to grow and develop into full-fledged enterprises. Here are some pointers on why our coworking spaces with extensive meeting rooms are best for every business out there.
Location
Location is king when it comes to choosing a workspace for your business. While an office that is located at a central location in the city is attractive to clients, it is also more convenient for employees and visitors. Techub is located at different flagship sites that provide easy access to everyone without any hassle of traffic and routing. Getting an office in a prime location with top-of-the-line facility management kickstarts business operations with a flash. A central location also improves the business presence in the industry and helps them build their brand awareness.

Read More: https://techub.com.pk/blog/5-steps-to-choosing-the-best-coworking-locations/
Infrastructure
Infrastructure means a lot to every business as a modern working environment requires completely digital amenities. At Techub we take care of all amenities that are essential to take the business to the next level. A fast internet connection, a reliable power backup, and a consistent recovery/support service are what an ideal coworking space possesses. Techub has got it all and is constantly expanding to cater to larger teams and organizations to perform at the fullest. 
Style
The aesthetics are often pulled under the rug by many coworking spaces in the market. Still, Techub believes that style and design are equally crucial for business reputation and growth. A stylish modern office space helps businesses introduce their brand to the market and attracts potential customers. Techub provides every enterprise with all the perfect branding tools that play a crucial role in business development, especially in the marketing sector. We provide the best environment that offers a picture-perfect look and ambiance for the workforce.
Intelligent Workspace Planning
Techub is known for its productive workplace planning, which is integral in helping employees produce their best work. The interior design and distribution are all built to boost creativity and collaboration across different team departments. It not only helps them work better as a unit but also enables proper utilization of each corner of the office. From aesthetic design to all sorts of amenities, Techub has everything up its sleeve that not only provides room for growth but also boosts productivity and focus. 
How Does it All Work at Techub
At Techub, we strive to provide the best possible atmosphere to our clients. The enterprise facility is improving with each passing day and the team is working hard to meet the high market demands. The management team at Techub is specialize in providing the best-in-class services for every type of business, be it a startup to teams of hundreds of people. We host clients from every industry and have an excellent track record of assisting startups to become market leaders. We have got all the best office space solutions, facilities, meeting spaces, and gaming rooms to ensure your workforce enjoys every bit of their stay in the office.
 Contact us to learn more about how we can ensure the perfect environment for your business development.