Shared Office Spaces – Getting Businesses Back in Position Amid Turbulent Times
The world is moving towards a more turbulent time with inflation, unpredicted economic instability, and recession looming around every business. The uncertain financial disasters force companies to lay off additional staff and shrink their departments. According to recent findings by the International Labour Organization (ILO), around 3.6 billion jobs were affected in 2022. 
Businesses have completed lease period, and entrepreneurs are still determining their floor plans. Hence, shared office spaces are making way for companies near the closure of their operations. Let's dig deeper into how coworking steads uphold businesses amid chaotic turbulence and distress.
Effects of Turbulent Times on the Changing Landscape of Work
Enterprises barely past effects of Covid-19 pandemic restrictions, have now entered no certain predictions to end the period of recession. With traces of spiking interest rates, inflation, stock prices decline, low office occupancy, and less profits, the future of the business world is at stake.
As the International Monetary Fund (IMF) predicted, global growth slowed to 3.2% in 2022; no wonder how businesses are going to cope. There is no denying that companies are witnessing abruption in their nature of employment as the post-Covid time forced them to adopt a hybrid work model. Furthermore, with the recession heading their way, businesses rely on shared office spaces to share their financial management burden.
Regardless of what comes ahead, enterprises are currently struggling with the following challenges: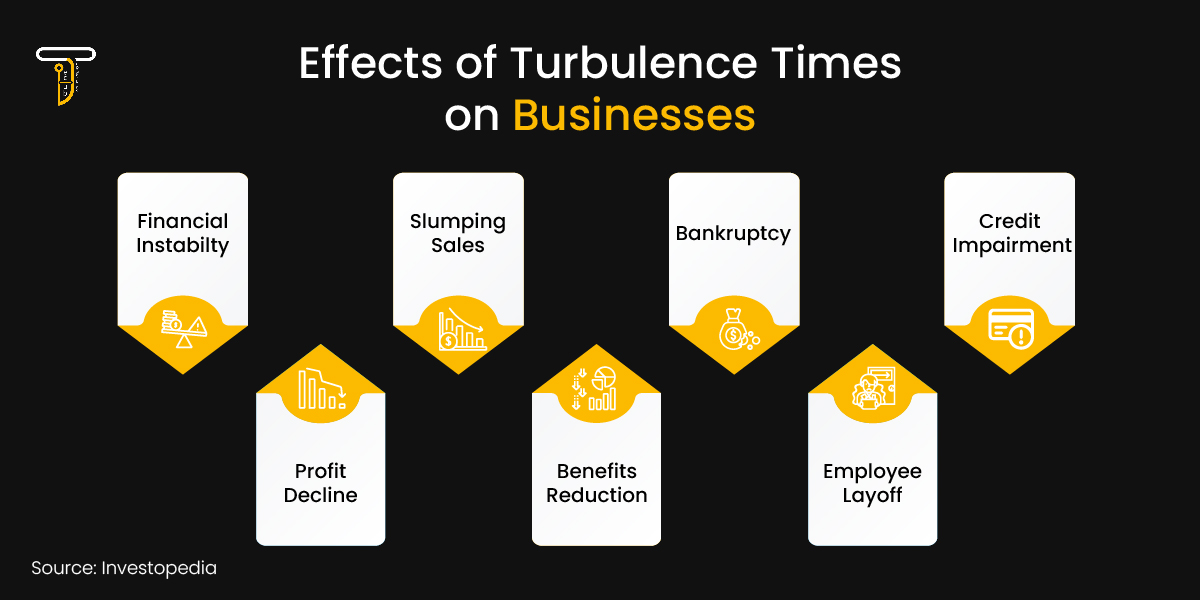 Reduced Profit Generation
Hard times like recession and inflation discourage customers from spending while consumer trust drops in the economy. Where this outright dropoff can save them money, it directly influences business profits. Companies need more resources to reinvest in their growth. As a result, businesses will face severe financial instability.
Credit Conditions Tightens
Inflation, recession, and economic instability are the major reasons small businesses are overlooked while accessing creditworthiness. Due to tightening credit conditions, entrepreneurs not only face deprivation of much-needed capital but also fail to maintain their infrastructure as well as other services.
Employee Layoffs
Nearly 93% of small business owners are concerned regarding where the economy will drive them. After witnessing a decline in profit, their reinvesting automatically reduces which results in employee layoff. Where they cannot revive services in recession, meeting the needs of a huge employee base becomes more challenging. Hence, they consider spending on their client retention while laying additional off the board.  
Marketing and Networking Constraints
Small businesses with less resources are unable to market their services as they might undergo budget mismanagement. While this moves them into a lonely vacuum, isolation, and lack of networking are other diverse factors affecting their production.
Price Wars
During hard times of recession and inflation, companies often rely on their reserves. Product prices heighten, stocks decline, and financial instability takes over. After consumption of complete reserve, shutting down the operations is the only option small companies are left with as client retention becomes a major issue with infrastructure management follows.
Coworking Spaces Help Businesses Cope with Hard Times
The current recession, economic instability, and other turbulent times do not seem to leave in another 12 months. This adverse spell will continue to influence businesses while creatng negative scenarios income disparities. However, entrepreneurs can overcome these scenarios by moving to a shared office space. They have myriad advantages, such as cost-effective corporate services, networking opportunities, infrastructure management, and hybrid working model achievement.
Small business owners, entrepreneurs, and close-to-shut-down companies can buckle up their operations and divide additional costs. The coworking trend has been around for ages but has picked up pace in recent years due to their efficient solutions. Businesses facing a financial backdrop can focus back on productivity while leaving the management burden to a third-party shared office space.
Facilities are Sustainable and Environment-Friendly
Coworking spaces are at the forefront of promoting sustainable and environment-friendly work facilities. They offer recycled materials made furniture, converse human energy by offering computerized receptionists, paperless communication, and energy reservations. As a result, small businesses won't have to worry about sustainability and be more eco-conscious.
Inclusivity – A Space for All
Concerning the needs of businesses in turbulent times, shared office spaces open doors to companies despite their niche. They cater to a variety of enterprise demands such as meeting rooms, in-house internet connectivity, infrastructure, and much more. Furthermore, a small office for rent also accommodates physically-challenged members as well as digital nomads. With high-speed internet connectivity and easy communication solutions, businesses can reap a broad appeal worldwide.
Socially Conscious and Community-Focused Services
According to various predictions, shared office spaces will thrive in the near future as compared to general working patterns such as separate buildings. Furthermore, they offer seamless networking opportunities where members of one company can interact both socially and professionally with employees of another. As a result, businesses can build up a clientele while ramping up their game in the competitive market.
Advanced Technology-Driven Services at Affordable Costs
The long-existing physical work model is transforming into hybrid employment amid present conditions of recession and other economic disasters. Businesses prefer outsourcing their tasks instead of creating space for new members such as desks and other infrastructure. Shared office spaces in this regard facilitate not only digital nomads but also take remote workers in.
Shared work spaces also offer technologically advanced communication systems, virtual meeting rooms, attendance systems, and ongoing surveillance.
Asynchronous Collaboration
Shared office spaces offer asynchronous collaboration and several other benefits. It refers to networking where employees do not need to stay online but can leave discussion points at other members' tables. Hence, employees can allocate their time while focusing more on productive tasks for business growth.
How Techub Supports Enterprises in Times of Need
With potential turbulence accompanied by economic recession looming, shared office spaces are aiding in business development by helping them cope with harsh financial instability. Technology propels companies forward toward a hybrid work model, the ever-growing gig economy, job seeker's market, and asynchronous collaborations. In all the awe of unexpected transformations, turbulent situations hinder business growth.
With no compromises on infrastructure, connectivity, and networking, Techub's shared work spaces will surely hold up enterprises regardless of what might come.

TIP:
 If you want any further information, feel free to 
Contact Us