Physical VS. Virtual: What's the Best Office Style for Businesses?
The Covid-19 restrictions changed the global workforce. With a strict emphasis on social distancing, businesses were left with a remote work style. While the corporate world adapted to this new reality, a decline in cases and the emergence of vaccines didn't let businesses settle. A study by Business.ATT found that hybrid working models will increase from 42% in 2021 to 81% in 2024. 
On the contrary, physical offices have their distinguished benefits. 72% of employees felt liberal as their voice was heard, while 73% felt the power of decision-making. However, the layoff of restriction left businesses with two choices: to go hybrid and embrace remote work or stick to existing physical office drudgery. 
That being said, can remote work replace physical offices and the outcomes they produce? Let's dive in to know.
The Great Migration of 2020 and Shift Towards Virtual Offices
Amid the Covid-19 pandemic guidelines, businesses clambered office workers to create DIY tables at homes or set up an equally professional setup. Right after the physical offices became a virtual space, companies saw an increase in workers' productivity and a decline in overall costs. Furthermore, employees were more accountable, with self-discipline at their core. 
Companies that moved back to physical offices experienced focus and a can-do attitude among their employees. Connecting with a co-worker at arm's length is somewhat different from reaching managers through Zoom meetings. Therefore, businesses mainly focus on preserving the physical office culture with innovations to retain employees. 
Employers offer different routes and compensation to get more workers on board. They are investing 50% in physical interactions, commuting cost reimbursement counts for 38%, 45% for lunches, and 33% go for childcare schemes.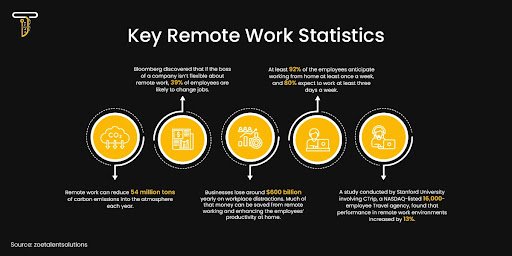 What are Remote Work Settings – A Preface of Virtual Offices
Virtual business offices do not require employees to get suited up and travel a mile. Rather, it refers to a remote setting where individuals can also work in their PJs. They attend meetings by setting up a desktop system at their workstation and portray equal professionalism. Similarly, virtual offices reduce costs, provide room for growth, increase productivity, involve less strict bossy supervision, and offer flexibility in deadlines. 
Remote offices offer flexibility in working hours. Unlike physical settings, employees won't have to follow a strict 9 – 5 routine. Hence, 46% of employees believe they can maintain a good work-life balance and meet deadlines when they feel feasible. 
After shifting to remote work, business owners have seen productivity levels reach ​​87% as employees can handle more tasks at home. 
Read more: Coworking space in Lahore – Increasing Modern Day Business Productivity
With other benefits, virtual offices can eliminate businesses' need to factor in supplies, furniture, rent, leases, cleaning, and equipment fees. Hence, companies can save around $500 billion per annum. 
Employees who work a handful of days are more productive and generate enough room for growth. Similarly, at the businesses' end, virtual spaces help remove infringement of a new setting and focus more on improving the bottom line. 
The Bourgeoises of Corporate World – Physical Office Settings 
While remote work continues to be the most adopted trend in town, businesses still prefer physical office settings to hire potential employees, seal corporate deals, and stay professional. These are the traditional brick-and-mortar settings with equipped buildings. Physical offices also draw a line between personal and professional lives. 
Further benefits of staying at physical offices include the following:
Physical offices have fewer distractions as there won't be any unfolded laundry, roaming children, dirty dishes, or neighbours at the door for chit-chat. 55% of employees said they worked additional hours while at home. However, physical offices offer more focus, and workers can get things done before the day ends. 
Businesses provide their employees with the best equipment, furniture, and connectivity in physical corporate settings. Hence, internet instability won't be a hurdle. 
Rapid Business Connections
Corporate offices, especially coworking spaces, are global villages to connect with co-associates from different niches and build professional connections. 
Unlike remote work settings, physical offices offer a more professional environment but with social interactions.
Virtual VS Physical Offices; Where Should Businesses Land Their Operations?
The competition between physical offices and virtual settings continues to grow as employees prefer remote work while business owners see the former as more favorable. The debate goes on with the following points as primary justifications:
Commute – Tearing Up Miles or no Traveling 
Physical offices can be near the block or far off, but both involve traveling miles that virtual setups do not ask for. Saving public transit and gas fees increases employees' happiness by 20%. Hence, remote work takes the lead in the case of commuting.  
More Focus and Fewer Distractions 
Around 69% of employees experience burnout while working from home as they must give additional hours to complete a task. On the contrary, physical offices maintain a combination of focus with fewer distractions. 
Work-Life Balance is in Physical Offices 
Banning remote work was an initial step Elon Musk took after taking over Twitter. Among many other reasons, one was maintaining a professional career and personal life balance. 
Read more: How Can Coworking Help Maintain a Good Work-Life Balance?
Where Does Physical Health Get Better?
Where physical offices affect mental health, remote work distresses physical well-being. Therefore, businesses must embrace a hybrid working environment. Similar to what the CEO of Amazon, Andy Jassy, did after she mandated her employee to attend office at least three days a week. 
Collaboration (Social and Business Engagement)
Virtual workstations lack instant business connection building as employees are captive in their homes. However, physical but virtual coworking spaces open doors to more social interactions. 
How Techub Breaks the Debate? 
Virtual space settings break the long-holding status quo between professional decorum and physical offices. But the fact that they have become people's choices can not be overlooked. While 61% of people are ready to cut a portion of their salary for remote work, employers must embrace a blend of both physical and virtual ideas. 
Techub, the modest coworking space in Lahore, offers mail forwarding, access to meeting rooms, telephone answering, and an office address to businesses seeking remote work. Hence, embracing virtual settings combined with access to physical offices has always been challenging.
For further information, Get in touch with us.