Coworking Space Lahore – A Cost-Effective & New-Age Concept of Networking
Coworking companies have transformed the way small businesses manage their expenses and reduced operational costs. This trend has spread out tremendously, especially after covid-19. By 2022, coworking spaces are expected to grow at a 6% annual rate in the U.S. and by 13% globally. 
Remote work is tiring because it makes people sleepy at home and feel isolated or unable to generate more ideas. For this reason, the need for the best coworking spaces arises to mitigate these conditions. Thus, a coworking space allows employees to complete their tasks efficiently by collaborating with other industry experts.
How Coworking Space in Lahore Can Transform the Traditional Offices
The coworking environment enables freelancers, remote workers, entrepreneurs, and experts to link with each other without going to any event. Coworking space Lahore offers networking, social interaction, and work collaboration. Thus, by utilizing these connections, people can trade information and make work relationships that benefit both.
Benefits of Coworking Space Lahore
Top coworking spaces facilitate collaboration between workers from different companies and allow them to complete their tasks efficiently. Businesses can save money and boost productivity by pooling resources, including buildings, machines, facilities, receptionists, cleaners, food, and package delivery services.
Coworking space Lahore, small businesses, independent contractors, and telecommuters can pool resources with well-established companies to get more done. Moreover, it increases bond between companies and its employees by providing collaborating strategies for effective working. As a coworking space, it can offer cutting-edge office environments that many businesses are seeking today. Coworking space in Lahore provides several advantages for small businesses and freelancers, including;
Affordability

Buying an area for business purposes can be expensive, particularly for startups. It will increase their requirement for investment. Financial growth is possible if corporations share a rented space.

Coworking space Lahore boosts income because companies do not have to pay for an area they will leave after some time. Coworking is now not only about sharing social areas and cost. However it additionally belongs to availability and affordability.

Networking

Coworking space Lahore provides an opportunity to make collaboration with new business tycoons. Coworking expands networking opportunities while increasing professional and personal growth. They can use these networks to fulfill any of their requirements.

It represents creating a conducive environment for work with no restrictions put by the company. Coworking networking is an essential source of business referrals stated by 64% of people. Thus, it helps employees to collaborate with experts from diverse fields and complete their tasks efficiently.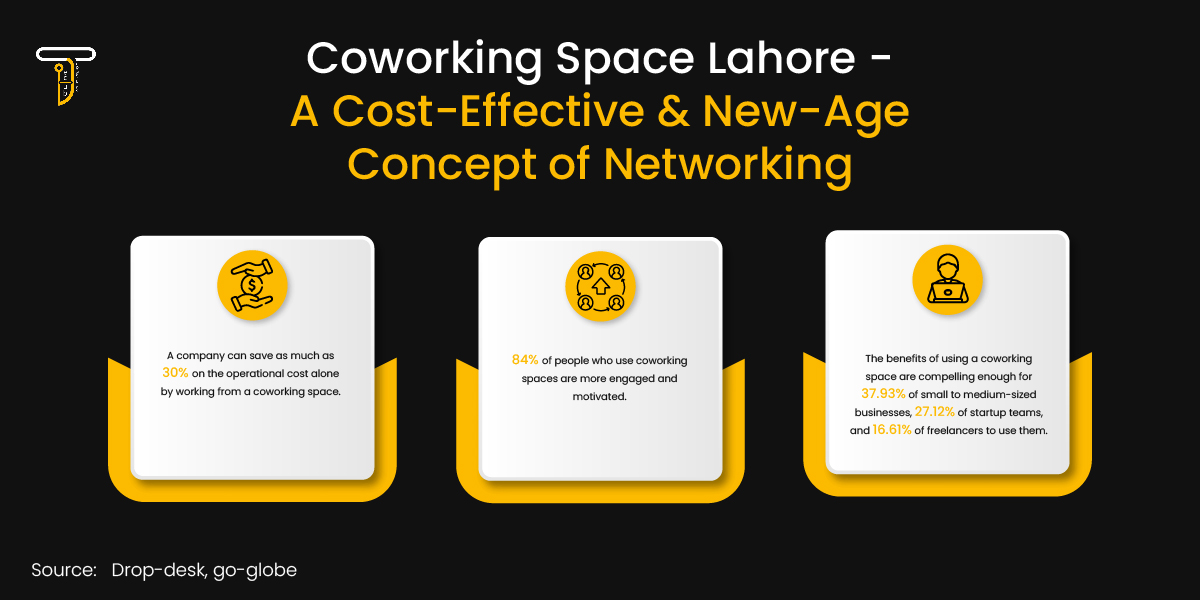 Community Environment

Entrepreneurs, startups, and freelancers have the opportunity to grow in coworking spaces. Coworking environments allow them to focus on their work instead of managing housework and office activities.

It also increases employees' capacity to work in a vibrant and positive environment. Moreover, coworking space Lahore provides a comprehensive environment which ensures that everyone can do work while enjoying snacks, coffee, and tea. Furthermore, it also conducts business events that everyone can attend.

Enhanced Productivity

Internet connections or any other house responsibility decrease employees' productivity. Coworking has solved this issue by providing fast internet service, private offices, closed doors, advanced technology, and design collaboration rooms to lessen the noise.

It provides value to experts with the elasticity to work from any place they want. Thus, coworking offices provide features that support focus work and are lacking in the home, i.e., privacy, quiet, and amenities.

Reduces Business Costs

Small firm owners who are just in the phase of starting up the business have to worry about numerous factors like

Taxes
Maintenance and cleaning
Furnishing
Utility bills,

Coworking spaces reduce costs by providing the best infrastructure facility with advanced technologies. Most workers enjoy spending time there because of the livable and sustainable environment.

Appropriate Meeting Spaces with Equipped Offices

Coworking space Lahore eliminates the worry of running and maintaining offices. It can be utilized by freelancers, entrepreneurs, business executives, and their teams.

They provide appropriate meeting rooms that give them a sense of a good workplace. These meeting rooms reflect mindset and culture with their furniture and layout.

Reduces Stress

Coworking spaces reduce business executives' stress because they care for all infrastructure elements. 23% of high-grade office spaces are now shared office spaces in Asian cities. Thus, outsourcing workspace maintenance reduces many responsibilities and enhances more productive ideas.

Coworking with Like-Minded persons

Most employees feel isolated or need more time to concentrate while working from home. Utilizing coworking space can help in working with creative and like-minded people.

It helps to reach their goals efficiently and provides them with more knowledge to complete tasks. These workspaces help employees to understand the significance of exchanging ideas.
Key Takeaways
Coworking space Lahore ensures small businesses collaborate with new employees with advanced skills and knowledge. It provides a comfortable and productive space.
TecHub provides top-notch quality services with 24/7 IT customer support services. They have a dedicated resource for maintenance, technical operations, and personalized management programs.
Most employees can grow by meeting with other experts and creative people. Moreover, it plays a crucial role by providing a vibrant environment and affordable prices for a professional setup. Thus, it helps businesses to unwind, focus and connect with other experts to succeed.