How Businesses Can Grow by Embracing the Flex Office Model
Life as a small business owner, an entrepreneur, or a freelancer sometimes feels isolating or lonely at the outset. It can initially feel lonely or isolated to be an entrepreneur, small business owner, or freelancer. One might wonder how everything gets done on a daily basis without a dedicated workspace and administrative support staff. Also, what if one misses the routine interactions with coworkers and mentors that are supposed to foster cooperation, connection, and community?
Coworking spaces are the go-to option. The many benefits these shared spaces provide for small business owners, freelancers, and entrepreneurs serve as a solution for the isolation that frequently comes with the job.
Is there truly a benefit to working in shared spaces? This is the query of many business owners today. And the answer is YES, it provides a number of benefits. Coworking spaces give the framework and sense of connection that need to shift employees' perspectives, increase their productivity, and help them accomplish business goals efficiently. According to research, workers of all ages place high importance on attractive and comfortable workspaces (61%), workplace flexibility (53%), a welcoming community culture (47%), exclusive benefits (47%), and learning opportunities (32%).
What is a Flexible Workspace?
Flex desk workplaces enable staff to work wherever they feel most comfortable by incorporating a variety of workstation arrangements. Various adaptable workspace styles include:
Hot-desking

–

Another common form of flexible workspace is hot desking. It allows workers to work anywhere they like inside the company rather than being given a specific desk. This not only promotes greater cooperation among coworkers but also makes the shared office more innovative and adaptable.
Open offices

–

Open offices are work environments where all employees are seated in one large communal space. Open-office designs are also gaining popularity, and the reason is that they promote great employee engagement. Moreover, they enable businesses to reorganize their space as desired.

Co-working

–

It is the practice of sharing office space among staff members from several companies. This can foster a sense of community and cooperation, which is why it is frequently seen in startups.

Office hoteling

– It is similar to hot desking, however, with the ability for staff to plan ahead for the time and desks they'll utilize in the office. Office hoteling is a much more popular setting than the others because it is simpler to track.
The popularity of various workspace models demonstrates an obvious shift from the conventional office setting. Looking for one of the best coworking spaces in Lahore? Well, TecHhub is the ideal option. 
How Does a Flex Space Work?
Flexible workspaces include open-plan models. Some fundamental elements of these spaces include:
Huddle areas for small groups

Conference rooms and meeting rooms for larger gatherings

Secluded spaces or pods wherein individuals can go to focus or make private phone calls

Reservable hotel rooms that can be utilized as temporary workspaces

Open-air lounges with cozy seating, such as couches

Shared amenities include dining areas and copy room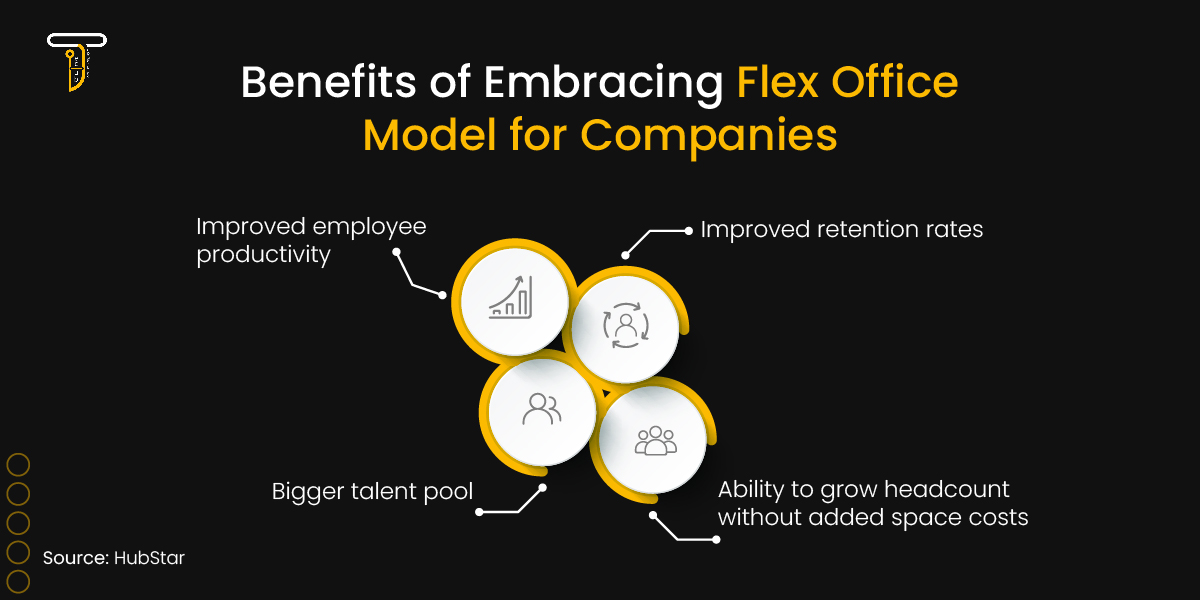 Why is the Flexible Office Model the New Normal?
Since the Covid outbreak, working from home has become a new normal, and when strict regulations were imposed, the concept of flexible workspaces not only allowed businesses to continue operating but also provided light on how workers can remain productive under these circumstances.
Employees today need a flexible working space as it offers them a number of benefits, such as:
1. Reduce Occupancy Costs 
In today's world, finding, renting, and furnishing an office space is quite expensive.  Furthermore, sharing workspace with other organizations, groups, and people allows employees to make better use of resources that might otherwise go wasted.
2. Increase Agility 
Companies need extra employees to manage the workload, particularly when it is expanding. In other circumstances, businesses might need to reduce their employees to save money to better use elsewhere. As a result, the office space must continue to be somewhat adaptable. Businesses can be more adaptable by using flexible offices.
In a dynamic workplace, the company will become more agile, and it can focus on keeping its employees occupied without spending money on unimportant things.
3. Increase Employee Coordination and Productivity
Employees will be able to connect more frequently due to the establishment of flexible workspaces and the expansion of open offices, which is thought to improve the circulation of ideas as long as there is interaction among employees. Sitting in chairs in the center of the workstation gives the staff several chances to come up with creative ideas that are useful to the business. The team will be able to interact with folks they don't often interact with due to the flexible office setup.
"Some of the best decisions and thoughts come from conversations that take place in the hallways or cafeteria." – Yahoo's Human Resources Director 
4. Great Employee Comfort
Employees are happier in flexible work environments because they feel more independent there. The employees do not have to move to a different area to complete a task. This sense of independence gives employees long-lasting happiness.
The main goal of doing so is to establish a flexible work environment where employees can engage and feel at home. This can be achieved through flexible shared office space and allowing staff members to choose according to their requirements.
Why is TecHub Coworking Better than Others? 
Techub Coworking is the ideal option for startups because it provides all the facilities of a large office without exorbitant cost. In addition to networking opportunities and collaboration, Techub provides startups and entrepreneurs with access to the tools they need to succeed. Techub offers access to resources that boost the productivity of employees.
For a productive and joyful workplace, it's essential to be adaptable as circumstances change. From 24×7 office access to offering the most wanted energy booster- TEA, Techub makes clients its top priority.  Still, have any queries? Talk to us and get advice from our expert.
Subscribe to Our Newsletter
Join our mailing list to get updates on industry trends, marketing tactics, and much more. You can unsubscribe at any time. We respect your privacy and will never share your information.